Yggdrasil Gaming:
Become A Viking! Photo Booth
At the Ice Gaming exhibition from 6-8th February 2018, Yggdrasil introduced their latest game "Vikings Go To Hell". As mentioned by the CEO himself, we want to bring audiences go to hell and back by turning them into Vikings with burning effect.
— Video featured by ICE Gaming Exhibition.
---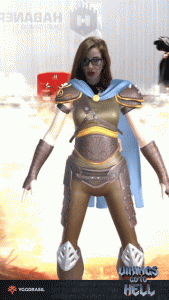 Transform Into A Viking
Audiences were very excited to see themselves in animated character form, play with it and share on social media.
Gesture Triggered Mode
Working alongside with their digital agency, we have customized a Flaming Berserk Mode which showcase the special powers of Viking characters in the game. It also brings out the effect of the game "Vikings Go To Hell". With an act of body trigger, the surrounding of Vikings body will glow with flames.
---
Customer Review — L3 Event Agency
"Our client was really happy with how the experience had turned out. There were many passerby who took interest in the booth from far, and had lots of fun playing with the characters. Overall we were very happy with the suggestions that Magic Mirror team has provided and look forward to work with them again on the next project in March." — Owen Thomas
---
Please follow and like us: